When you decide to finance a vehicle, once you drive it off of the lot, it is now your vehicle and your responsibility. You will still be held responsible for paying the lending agent back in full for the purchase amount, plus interest. Who you choose to finance through is your discretion, but a majority of finance agreements are either through the dealership you are purchasing from or an independent bank. Choosing to finance your next vehicle purchase through Webber Family Motors comes with a lot of benefits, and these are just a few:
Ease For The Customer
This is easily the biggest benefit we can think of when it comes to financing a vehicle through us versus the bank. You won't have to deal with a third party lender and all of the purchasing agreements can be signed right on the lot, leaving you with less of a headache. No more running back and forth between your bank and the dealership, trying to sort out appointments and schedules. Think of financing at your dealership as one-stop shopping.
Another benefit to financing through your dealership is the fact that you will only need to deal with one lender and one credit inquiry process. Remember, each time you apply for an auto loan or inquire about it, your credit score is being affected.
We Do Auto, Period.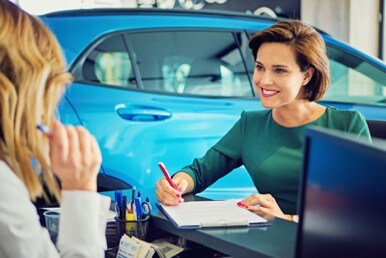 Banks handle all lines of credit, from home, boat, agriculture, motorcycle, and everything in between. Dealerships on the other hand only deal with one thing - auto loans - so it's safe to say we've become the experts in this area. This also means we have a more competitive market when it comes to dealing with our lenders, and we can shop around to find you the best rate.
If you are still worried about financing through a dealership and prefer to finance locally, keep reading. We frequently work with local banks and credit unions to secure you a great rate. If you are a student, first time buyer, or struggling with not having an established line of credit, we will work with you to determine the best plan of action. We'll even work with our brands like Ford or Chrysler to offer you special financing for first-time buyers. At Webber Family Motors Finance Center we want you to know finding you a great rate, no matter the cost, is our number one priority.
Diversify. Less Risk.
You've heard the saying, "Never put all of your eggs in one basket," and it holds true for financing. Expanding your credit base is important. If you ever default on a loan or make a late payment, and your bank has access to your checking and savings accounts, your mortgage, and lines of credit, they then have authorization to freeze all of your assets until you clear up your holds. One concern we hear from our customers is that they are nervous about sharing their personal data, but we want you to know you can trust Webber Family Motors with your personal data. It is our promise to you that we will never share or sell your personal information with anyone.
The Numbers Don't Lie
When you work with Webber Family Motors to finance your next vehicle we won't hit you with hidden costs, origination fees, or a higher interest rate down the road. You will be locked into an Annual Percentage Rate (APR) that cannot change, which differs from a bank's interest rate. Working with a dealership can also help you secure a lower down payment for your next purchase. Your financial institution will likely require a 10-20 percent down payment, but we will work with you. Are you looking for a lower down payment? We will work with you to find a down payment you can afford.
Unlike a bank, we offer multiple finance plans including extended term, lease, and more. And we will give you 45 days from signing to make the first payment, while most banks require a 30-day payment. Another option is our 90-day deferment plan with no acquisition fees, write-off fees, or prepayment penalty fees. Choosing to finance with Webber Family Motors means you are choosing to simplify the process of financing a new vehicle. Stop by our dealership to pick out your new ride and drive away today.