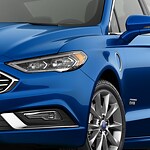 When it comes to mid-size sedans, the Ford Fusion is a popular choice. That's because the Fusion can be equipped with a number of top performance features. Here's what's available on the current Fusion.
If you want all-wheel-drive in your mid-size sedan, then you'll want to take a look at the Fusion's available Intelligent All-Wheel-Drive System. This system can turn itself off when not needed. This will give you a better overall performance on smoother roads. Also, the Fusion offers Auto Start/Stop Technology. This system can turn off the engine when you are at a complete stop. This will save fuel and give you more overall range performance. When it comes to mid-size sedan performance, the Fusion can provide you with more than the competition.
Get into a brand new Ford Fusion today. Take a test drive at Webber Family Motors in Detroit Lakes, MN. We're looking forward to making you an unbeatable deal.