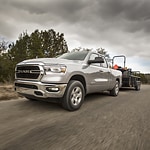 A popular favorite, the Ram 1500 is a light-duty pickup truck that was designed for strength. Whether you need it for work or for day-to-day tasks, the Ram 1500 was made to flex with your needs.
Made from high strength steel, this monster of a truck can haul up to 12,750 pounds when properly equipped. It can be used for towing, hauling large and heavy items, and more. This year's Ram 1500 also features a flatbed that has innovative fold open and swing-open doors, that function according to your needs. These doors have the capacity to maneuver at an 88-degree angle, making it much easier to climb in or to slide your supply into the tailgate.
All in all, the new Ram 1500 is loaded with impressive features that will make challenging tasks much easier. And with capabilities this impressive, the Ram 1500 can be hard to pass up.