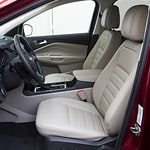 When you are in search of a popular and reliable compact SUV for your driving needs, turn your sights toward the new Ford Escape. This leading SUV offers ample cargo space and room for your entire family. Find out what the new Escape can offer to you today.
The convenience features alone make the new Escape from Ford a worthwhile investment. Take, for example, its 12.3-inch LED touchscreen display. This display comes as part of Ford's FordPass infotainment system. It allows you to not only pair your smartphone to your new SUV but also access popular features like music playlists and weather.
The newest Ford Escape also is also equipped with an easy-to-use touch liftgate. All you have to do is touch the gate to activate its lift mechanism. This feature allows you to easily lift up the gate without having to put down your armful of bags or fumble for keys.